About
Midlands Air Ambulance Charity (MAAC) operates and funds three air ambulances covering six Midlands counties including Gloucestershire, Herefordshire, Shropshire, Staffordshire, Worcestershire and the West Midlands.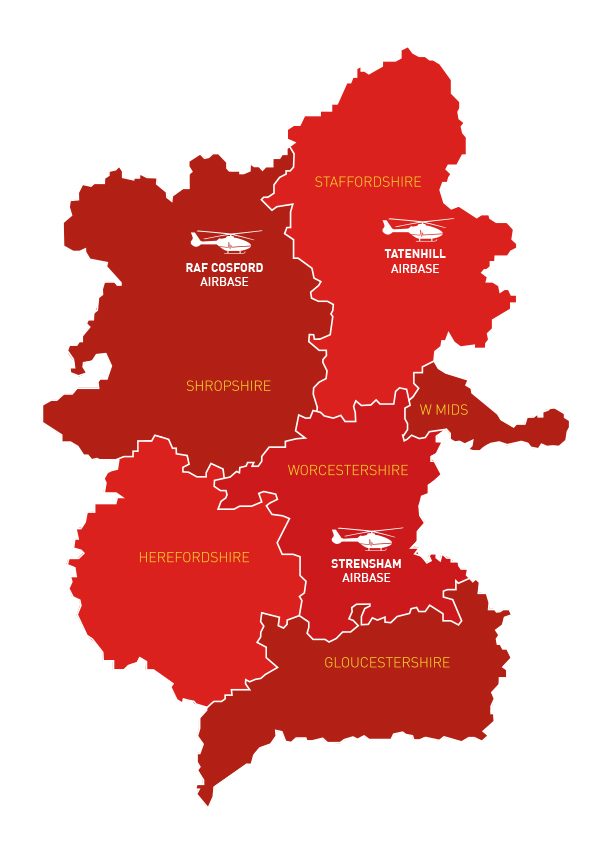 Each year it costs in excess of £9 million to maintain the three aircraft and the provision of a lifesaving service. Each air ambulance mission costs an average of £2,500. Each critical care car or cardiac car mission costs £224 on average. The charity does not receive funding from the Government or National Lottery for its daily missions so relies entirely on the support and generosity of local people and businesses.
Since 1991, we have has responded to over 60,000 missions, making us one of the busiest air ambulance services in the UK. Find out more about Midlands Air Ambulance Charity's history.
Operating from strategically located regional airbases at RAF Cosford in Shropshire, Strensham in Worcestershire and Tatenhill in Staffordshire, our air ambulances can reach 90% of the region within eight minutes. Our aircraft each carries a crew comprising a pilot, two paramedics or a paramedic and flight doctor, plus full life-support medical equipment. Three rapid response vehicles are deployed when the helicopters are unable to fly, due to bad weather for example.
In addition, the charity has two critical care cars – one covers Birmingham and the Black Country area, whilst the other attends missions in Worcestershire. Both are operational between 8am and 8pm daily. There is one critical care paramedic on-board each of the cars responding to medical incidents including heart attacks / strokes / sepsis and respiratory issues.
The charity responds to some of the most traumatic incidents including cardiac arrests, road traffic collisions and sports injuries. The aircraft reaches remote locations to attend to patients unreachable by land ambulance.
Charity Mission
To provide patients with outstanding pre-hospital care and life saving intervention through the operation of helicopter-led emergency medical services (HEMS) – we will continue to save more lives and improve survivors' quality of life through the provision of a comprehensive, transparent, clinical and operational helicopter led emergency service aligned to changing patient need and demand.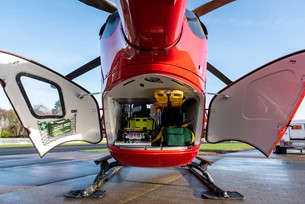 Charity Vision
Saving Lives by Saving Time, today, tomorrow and in the future.